Spaces for hire at the Versailles Palais des Congrès
Fully restored, flexible and equipped to host all types of contemporary events, the Versailles Palais des Congrès has a number of spaces for hire covering a total area of 3,200 m², available for private bookings either in parts or in their entirety, delivering the best possible experience for your guests.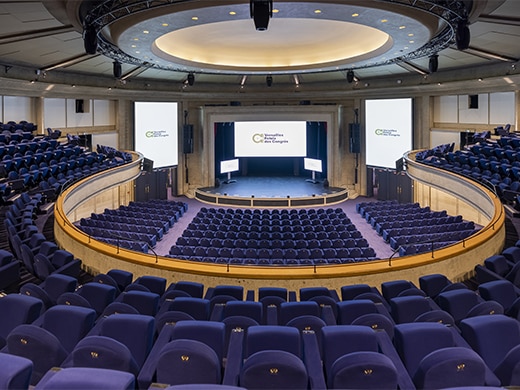 Located on the 1st floor, it can accommodate up to 1,000 people over two levels. It boasts a 100-m² stage and the latest technological equipment. The first 7 rows can be removed, to extend the stage and fit all your set designs.


To download the complete file, please fill in the form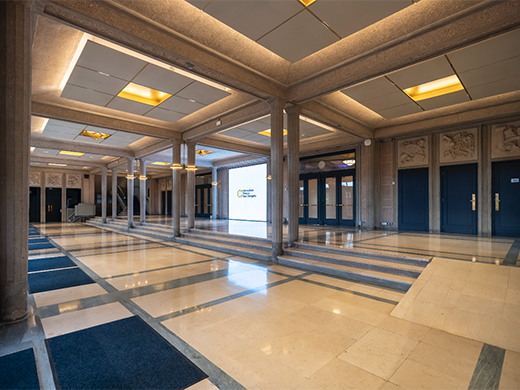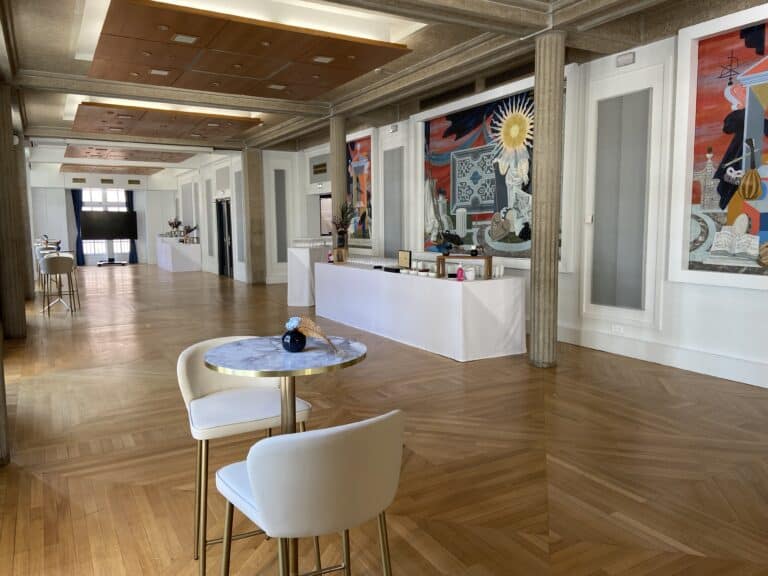 Ten independent, fitted rooms are at your disposal for all your workshops and work sessions.
These modular spaces are distributed over the various levels.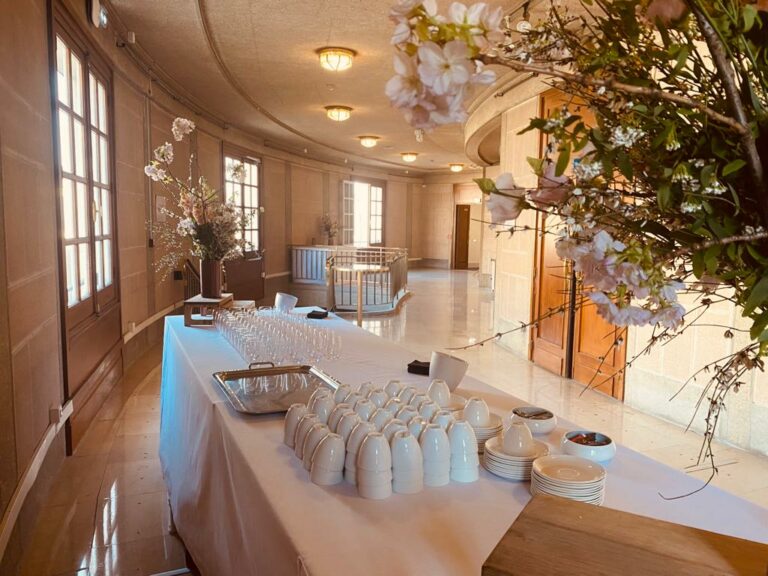 How much floor space do you need for your hire space?
To measure the floor space you need for your meeting, you can calculate the surface area required according to the number of participants and the type of event you are organising. To be on the safe side, define the maximum number of guests in the room using the following rule of thumb per person:
1 m² for a conference
1 m² for a sit-down meal
5 m² for a standing cocktail event
5 to 2 m² for a workshop or classroom training session
The result will give you the capacity of the space for hire, which you can check in our detailed table for the 3,200 m² that we put at your disposal, either in part or in full.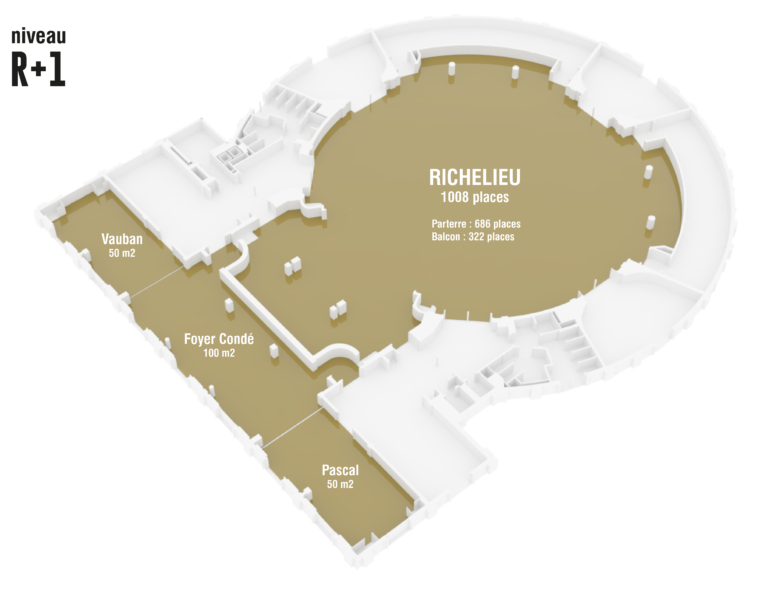 3200 m2

à votre disposition 7j/7 ​
Salle
Niveau
Surface(m²)
Hauteur max.
Sous plafond
Théatre
Classe
Cocktail
Repas assis
Lumière
Naturelle
Lulli
-1
350
2.60 m
220
160
350
250
non
Bar Salon
-1
72
_
40
_
60
40
non
Hall d'accueil
0
300
3.40 m
_
_
300
_
oui
Racine ou Molière
0
100
3,40 m
60
_
100
70
oui
Mazarin
0
520
3,40 m​
270
200
520
400
oui
Salles Racine + Molière + Mazarin
0
720
3,40 m
270
_
750
500
oui
Amphithéâtre Richelieu
1
_
_
de 250 à 1008
_
_
_
non
Foyer Condé
1
100
3,40 m
84
63
100
80
oui
Vauban ou Pascal
1
50
3,40 m
50
35
50
40
oui
Foyer Condé + Vauban + Pascal
1
200
3,40 m
_
_
200
160
oui
Colbert
0
135
3,40 m
100
85
130
100
oui
Boileau ou Montesquieu
2
50
3,40 m
50
35
50
40
oui
Colbert + Boileau + Montesquieu
2
235
3,40 m
_
_
230
180
oui
Galerie (espace polyvalent)
2
270
3,40 m
2 x 80
2 x 40
280
_
oui
Mistakes you shouldn't make when choosing a space for hire
As we have just seen, it is important to match the size of the hired space with the number of guests, counting both seated and standing guests. It would be unfortunate either to hire a room that is too large when there will be very few participants; or alternatively, to hire a room that is too small to accommodate the majority of your guests,
Don't worry, semi-private options are available, and we will be happy to advise you
 However, there are many other points to be checked for your venue hire to ensure that everything goes according to plan. The configuration of the hired space must be appropriate for the type of event. For example, a sit-down meal cannot be held in an auditorium, nor can a conference be held in a corridor! In addition, special attention must be paid to accessibility for people with reduced mobility or with disabilities.
 In addition, when hiring rooms, don't forget to check the equipment built into each space to be hired – such as electrical outlets and other connections – and the equipment provided on site, such as the sound system, screens, a video projector, a control room, etc.; a technician, a manager or a team of technicians will be on hand to assist you with all the technical aspects.
What space should I hire for each type of event?
There are many rooms available for private bookings at the Versailles Palais des Congrès for your next meeting; some spaces are more suited to certain events than others. Ideally located opposite the majestic Palace of Versailles, our conference centre will deliver the best event solution for you, tailored to your needs and your programme.
The ideal venue for an intellectual, formal or spectacular event, this luxurious auditorium is the conference and performance hall par excellence, with a seated capacity of 1,000. Whether for a conference, a debate, a half-day or full day of study, a cultural festival, an award ceremony, a film screening, a concert, an opera, a live performance, a political gathering, a general meeting, a press conference or any other similar form of meeting, this large conference room will score you points as you welcome your participants in comfort and create a sense of wonder.
The sublime, offbeat, versatile Mazarin Room is the perfect venue for hosting large-scale events, professional or public events. With its special atmosphere, in the revisited spirit of the Palace of Versailles, this large space offers all the functions of a multi-purpose room or a party room, but in a sumptuous setting worthy of a royal château. It will be an undeniable asset for your congress, trade fair, exhibition, short-term exhibition, prestigious reception, fashion show or pop-up showroom… and many other event formats.
Suitable for an intimate or festive event, this turnkey hire space provides a cosy, distinguished setting for your seminars and private receptions. With a beautiful circular area of 350 m² and a private lounge bar, the Lulli room is particularly suitable for a cocktail party followed by an evening event, a DJ set, a dance party, a company party with dance floor or a private concert. However, the Lulli space is also the ideal place for your hybrid event, audiovisual broadcast, webinar or high-end videoconference, thanks to its state-of-the-art connectivity, large projection screen and camera equipment for live streaming. This superb venue, with its star-studded ceiling, is modular and resourceful, and will also be a brilliant success as a private lounge or VIP area for a major event at the Versailles Palais des Congrès.
The lounges and break-out rooms
For work and discussions in small groups, the Versailles Palais des Congrès houses 2 sets of 3 lounges each, which you can book as meeting rooms or training rooms. Whether you're organising a working meeting, a sub-committee meeting, a meeting of an employee representative body, a session of the management committee or a steering committee, these six spaces – fully modular and fully equipped, and offering natural light, wired or high-speed wi-fi internet access – can accommodate numerous participants by opening their doors to form a large reception room. This enables you to provide a workshop, a training course, a buffet, dressing rooms or a networking area during your professional events.
The Lobby reception hall at Versailles Palais des Congrès
The 300-m² lobby naturally offers the perfect space for welcoming visitors and distributing them to the various levels of the building. You can set up your ticket office or box office there, or an information point for a large event. This hired space can be configured for private use on request, and can also be used to set up your own catering area in addition to the main space.
This large, long, curved gallery is a space connected to the Richelieu amphitheatre. It will give you options during intervals in meetings in the auditorium, by acting as a buffet or cocktail venue. You can also use it creatively to set up a temporary exhibition, or an extended exhibitor area.
Versailles Palais des Congrès: à la carte hired spaces for your finest events
How do you hire a room or book several spaces for private use at the Versailles Palais des Congrès? Our team and service provider partner network are waiting to advise and assist you in preparing your next event. Please contact us well in advance of your next event to find out what rooms are available and to plan the logistics to create the best event space for you.
If you would like to download our detailed plans and capacity table, please fill in the form
Plans-Versailles Palais des Congrès - EN